---
Repeater Maintenance : 2011-6-2011:Phase-1
Spent the day at Kloof Microwave tower installing the new phased 2 stacks for the 145-625 repeater. One 2-STACK on the west side and one 2-STACK on the East .These are phased together in order to overcome the isolation due to the tower.
The results were positive and this is Phase-1 of the upgrades taking place.
Reports are being given as favourable and improvements noticed on all round coverage.
<![if !vml]>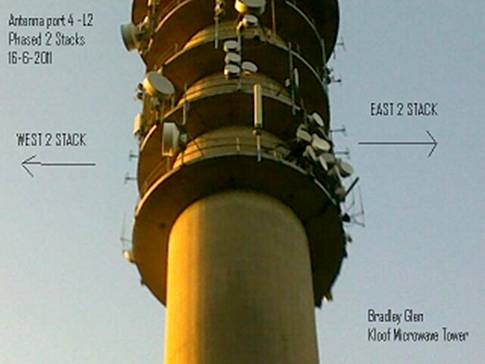 <![endif]>  <![if !vml]>
<![endif]>
HF Turnstyle 2011-6-10: Converted my inverted V 40m dipole to a Turnstyle HF antenna to experiment with CP.
The antenna looks the same as a turnstile used for Sat work , which is common for VHF /UHF.
From the tests made it definitely has improved on the air reports for local comms and reports received form other stations noting an improvement over the OCFD comparison.
Delta Loop construction:  2011-05-08
Having wanted to put up a 4m and 6m antenna , I tried these designs and
have found them to be well worth the time.
All made from junkbox and cost no money .
Top PVC antenna is the 6m and below that is the 4m version.
I found using cadweld wire :
4m total length being approx 4,55 m(txmer match =660mm 75 ohm RG59)
6m total length being approx 6,35 m(txmer match =990mm 75 ohm RG59)
Both deltas have the same 75 transformer matching type.
<![if !vml]>
<![endif]>
<![if !vml]>
<![endif]><![if !vml]>
<![endif]><![if !vml]>
<![endif]>
<![if !vml]>
<![endif]>
Homebrew CW KIT modified: 27/4/2011
Our club had cw decoder kit by IK3OIL .(All the PIC credit is for IK3OIL.)
<![if !vml]><![endif]>

Although designed primarily for learning CW, new and experienced CW ops are sure to like this simple and inexpensive CW decoder.
The decoder uses a PIC16F84 microprocessor and a NE567 PLL as analog interface. The software automatically adapts to incoming CW at speeds between 5 and 30 WPM.
The circuit has been published in QST and appeared on the cover as reproduced here.

 
I put this kit together and then did one mod after the other.
My box I did the following :
<![if !supportLists]>1) <![endif]>Added audio amp with volume control on faceplate.
<![if !supportLists]>2) <![endif]>When earphones are plugged in , audio amp is disconnected.
<![if !supportLists]>3) <![endif]>Added clip on heatsink to 7805 .
<![if !supportLists]>4) <![endif]>Added a Vu meter which simulates a radio to some degree.
<![if !supportLists]>5) <![endif]>Added a RCA rear connector to monitor audio (for scope or recordings.)
<![if !supportLists]>6) <![endif]>Added a 12V relay activated via a mosfet (IRF640) to rear RCA connector
to key a separate radio or light or any other device.
     7) Added a fuse and toroid on the power supply input .
     8) Added in parallel, an RCA connector on the Key input.
I did test this unit in receive , off the PC and ran it all night on 30 wpm –passed.
<![if !vml]>
<![endif]>
<![if !vml]>
<![endif]><![if !vml]>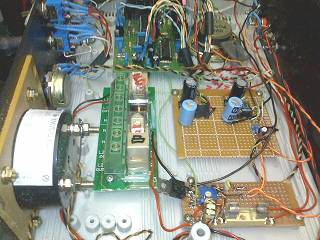 <![endif]>
<![if !vml]>
<![endif]>
Just need to do labelling to complete the project.
With this mod one could crossband an incoming receiver to outgoing CW radio – just an idea.
 My homebrew 600 Ohm ladderline:
Decicded to make homebrew 600 ohm feeder to feed into my James Millens tuner .
1)Porceline spreaders from years back .
2)2mm steel wire.
3)Small soft pieces of copper to fix spreaders.
4)About an hour for the 25m length.
Completed:
<![if !vml]>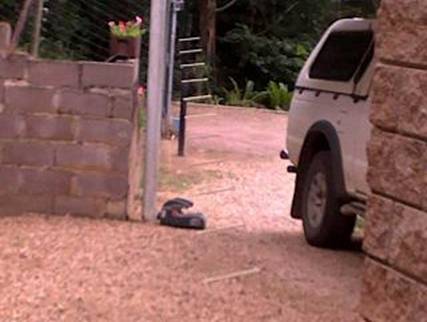 <![endif]>
<![if !vml]>
<![endif]><![if !vml]>
<![endif]>
<![if !vml]>
<![endif]>
2)Transmatch: James Millens :92200 manual antenna tuner to be used with the new antenna .
<![if !vml]>
<![endif]>
Looking for:
 1)This is the midband  radio for which I am looking for the software:
<![if !vml]>
<![endif]>
2)Some pictures of the pic controller designed by Dave VK5DJ , and modified for my purpose .
My proto-type including DTMF decoder to 7 sement:
<![if !vml]>
<![endif]>
Wiring harness is laced with lacing twine –tubetype.
<![if !vml]>
<![endif]>
After testing the basic needs I did add some CMOS gates to indicate COS-PTT and COS-LINK as well as Alarm-INPUT
<![if !vml]>
<![endif]>
This is the replacement Ch 6 uhf