---
dStar Experiment:7 Jan 2012-01-07
Today saw the experiment I have been wanting to do since starting with the dstar repeater setup.
Aim: To see if a standard off the shelf Ham crossband radio will crossband the dStar dtar stream.
Today I tested this theory with an Icom IC-2800 radio in crossband mode.
The experiment was a 100% success in both vhfto/from UHF.
This would allow us to expand the dstar to some areas WITHOUT the dedicated resources such as the dstar dongle /PC and internet.
Using this one can provide a star network from a main dstar repeater .
There is no reason why even crossband portables could be used- will test my IC-78 soon .
This will certainly open up a lot more avenues and self experimentation for the ham wanting to get involved in dstar.
I am not saying that ALL crossband radios will do this as one has to appreciate that the radio should pass from Discriminator out to flat tx input in order to pass the digital data stream.(Hopefully your crossband can do this )
The audio was 100 % and proved the theory .
Best practice would be to get a very good incoming signal path to the donor dstar that you want to work off.
Good luck with your own experiments- do drop me an email if you are successful.
Regards ZS5BG
Repeater Work: 06 Jan 2012
Alverstone 145-000 RX site planned work.
(RX leg of the split site repeater 145-600)
Installed Polyphasors and earth to our equipment-
 VHF RX 145-600
 UHF 431.625 to PMB channel 2
First two positions from left.
<![if !vml]>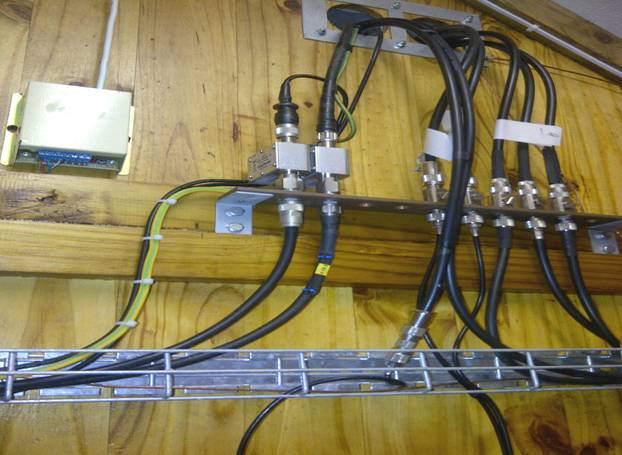 <![endif]>
<![if !vml]>
<![endif]>
Repeater Work: 05 Jan 2012
Repeater UHF dstar installation Kloof hisite:5 Jan 2012
Completed dstar installation at Kloof hisite ,first dstar repeater in the Harc area.
This temp installation is until the excess equipment is removed from container and we can mount in dedicated 19" cabinets that are on site .
For this exercise I have taken the HUB 434-650 off air till further notice.
Channel 7 dstar uhf is using the collinear AR-12 at top level of tower.
Frequency-439_325 Mhz  (-7.6mhz split).
Currently in standalone operation until the internet access to the site is arranged .
The cavities (Kathrein) make for a perfect UHF duplexer but has 3dB loss per cavity – but well worth it .Each cavity consists of dual cavity sections with a window between them – top design by Kathrein.
From left is Motorola M120 – middle is the Satoshi board and breakout box –PTT and COS line enable /disable for my own reasons .The Monitoring point is the BNC to monitor the data stream on site – very useful.
On the right is the M10 UHF transmitter with its own mod- PTT switch Normal and PTT enable .
Future : May look at a LNA just to up the RX a few dB's .
Many thanks to Jan ZS5JC who provided the Sotashi dstar board for this project.
<![if !vml]>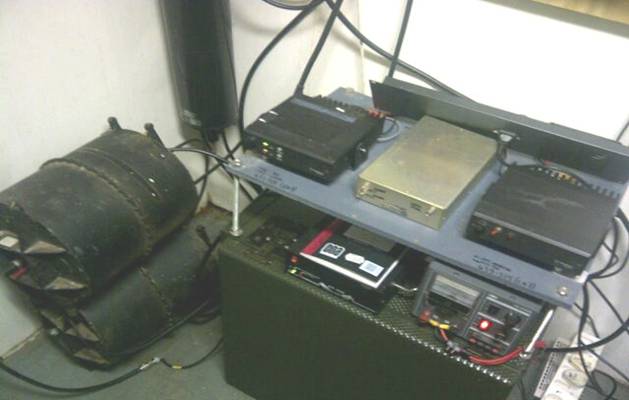 <![endif]>
<![if !vml]>
<![endif]>
Repeater Work: 23 June 2007
--Made off connectors for remaining 3 cables from container to base of tower.
--7/8 cable is now terminated to the UHF yagi facing Alverstone as a temp patch for the UHF repeater ch1 in container.
<![if !vml]>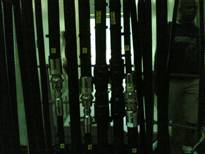 <![endif]>     <![if !vml]>
<![endif]> <![if !vml]>
<![endif]>
First picture :        Base of tower where our feeders are connected to runs going vertically up the tower.
Second Picture  : Preperation to terminate link antenna connector.
Third Picture:        Picture of Ham Container (door open )
Ch1 :  OFF AIR
Ch2: Frequency used by MARC club for their wide area linked repeater system.
Ch3 :Standalone (No HUB)At this stage there are no plans to change anything at this site and it has been working well .
Ch4 :Bluff is requiring new feeders to be put up after the radio company replaced the mast due to weathering .
Ch5 :
Ch6 : Back up and running standalone   .
Ch7 :Now dstar repeater at Kloof
145-600  Linked to PMB linked repeater MARC network
145-625 : This repeater also has moved to the external container at Kloof .
434-650 : Alverstone HUB to be recommissioned –future.
 /
          NAT.U.R.N. (Natal Uhf Repeater Network)